IndigenousXca list of hosts

Maatalii Okalik (Nov. 6 – 13)
Tell us about who you are, where you are from, and what you do.
Asuujutin / Greetings. My name is Maatalii Aneraq Okalik and I am very proud to be from the beautiful land of Nunavut. My relations are from in and around Panniqtuuq, Nunavut. My ningiuq (grandmother) was from Illungajuq and my ittuq (grandfather) from Uummanarjuq. I am an Inuk woman who is determined to work in the best interest of my people to the very best of my capacity.
My people have occupied the land, ice and water for many, many generations and we continue to do so, asserting sovereignty.
I am privileged to continuously learn my language and culture from my fellow Elders, family and friends. To me, this is the knowledge that I can apply to my work with confidence and this is the knowledge that I value most. I've also studied Human Rights and Political Science, minor in Aboriginal Studies at Carleton University.
I enjoy sewing, hunting, and camping with my family and friends. I also enjoy volunteering for my people. I have the great honour to serve as a Director for Nunavut Sivuniksavut's Board of Directors, the Arctic Children and Youth Foundation Board of Directors and the National Inuit Working Group on Sovereignty. I've had the privilege to serve as the President and Vice-President of the Ottawa Inuit Children's Centre, a Director for Project North, an Advisor to Students on Ice and the City of Ottawa. I've enjoyed working in various departments within the Government of Nunavut.
What do you plan to focus on during your week as host of @IndigenousXca?
As the host of @IndigenousXca I hope to educate followers about Inuit – my people. Our past, present realities and visions for the future. Whether followers have an interest in culture, language, history, governance, politics, law or music, I hope to pique reader's curiosity to learn more. I also enjoy using social media to share with interested individuals my path of learning, about encounters I have with Inuit cultural and Inuit language resources and of course, the people I am honoured to meet.
What issues are you most passionate about and why?
I am very passionate about finding solutions to issues faced by Inuit in all aspects of life. I am passionate about language, culture, family, community, traditional activities, good governance, relationship building, and politics. In Nunavut, Inuit have Guiding Principles that I truly believe are applicable to home, work, and community life.
Inuit Qaujimajatuqangit includes:
Inuuqatigiitsiarniq: Respecting others, relationships and caring for people.
Tunnganarniq: Fostering good spirits by being open, welcoming and inclusive.
Pijitsirniq: Serving and providing for family and/or community.
Aajiiqatigiinniq: Decision making through discussion and consensus.
Pilimmaksarniq/Pijariuqsarniq: Development of skills through observation, mentoring, practice, and effort.
Piliriqatigiinniq/Ikajuqtigiinniq: Working together for a common cause.
Qanuqtuurniq: Being innovative and resourceful.
Avatittinnik Kamatsiarniq: Respect and care for the land, animals and the environment.
Who are your role models, and why?
I have numerous role models who guide my actions today and into the future. First, my ancestors and their experiences. Their history showcases their immeasurable strength and dedication which always reminds me that anything is possible.
Second, my Anaana (mother). She, as a single mother, sacrificed so much to raise my siblings and I. I am so appreciative of her strong teachings, for showing us how to love, her respect for Elders, her extremely positive worldview, her deep connection with emotion and her quest to learn. My Anaana has weaved a strong foundation for us. I am forever grateful.
In my reflections, I realize that I find role models in every individual that I meet. I thank everyone for their positive contributions in my life. Each person has great value and purpose. Together, we can achieve great things.
What are your hopes for the future?
I hope to see a happy and healthy future for Indigenous people of the world, including Inuit. I understand culture and language to be the backbone of our people. Although there have been countless attempts by people, governments, structures, and systems against our people, we have survived. We have lost a lot, but continue to reclaim and revitalize what once was strong. I know that we will continue onward but my hope is that we find peace and solitude in ourselves as a people, balance in our continually evolving environment and ultimate happiness and health as a collective.
Gabrielle Fayant (Oct.30-Nov.6)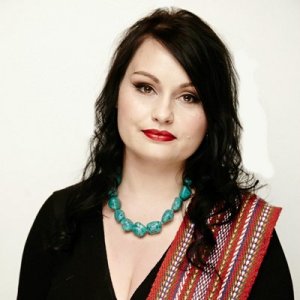 Tell us about who you are, where you are from, and what you do.
Aanii, Boozhoo, Kwey Kwey, Tansi
Gabrielle Fayant ndiizhnikaas. Fishing Lake ndoongiba. Ottawa ndoongi. Mukwa dodem. 
Hello Everyone, my name is Gabrielle Fayant. My family comes from Fishing Lake Metis Settlement, much of my family still lives out there, my kookum was definitely a rock in the community and helped build the community into what it is today. I currently live in the Nation's Capital, Ottawa, Ontario. I have been here for my teenage years up until now. I am bear clan. It is important for me to introduce myself in this way so those of you following me for the next couple of days will know who I am, where I come from, if maybe we'e related along the way and so you know my role in the clan system, in society. 
I wear many hats, most people know me as a mover and shaker, I like to get things done. I especially like to get things done for our youth, that's where my passion lies. Most recently, I have accepted the 2015 Indpire Metis Youth award as well as helped launched a youth-led and youth-driven Indigenous youth organization called Assembly of Seven Generations (@a7g_official), we are currently in the first phase of our first program called ReachUp! North in partnership with Digital Opportunity Trust and the City of Ottawa. It has been a long road to get here but to get here I have relied on teachings from Elders I meet along my journey as well as my peers and other traditional people like the drum keepers, fire keepers and the oshkabewiswag. 
What do you plan to focus on during your week as host of @IndigenousXca?
During the next week, I hope to take you on a journey through my every day life. I wear many different hats, I am a business woman, a self-starter, an activist, a socialite, a move and shaker, a singer and drummer, an oshkabewis, a proud Metis woman, a youth and a a bit of a goof. This is also true for all Indigenous youth, we do so much in our communities, it's hard to just label us as one or two things. I hope to give you some insight as to what life looks like from a young Metis woman trying to make positive change while walking on the red road. It's fun, it's exciting, it's hard. I will share with you what I see, I will share with you important news and blogs that come my way, I will even try to share videos and a few of my own micro-blogs from drum practice to social events to the important work A7G is doing this week. 
What issues are you most passionate about and why?
It's hard to narrow it down, there are just so many issues! But definitely, Indigenous youth issues is my current focus. I have worked in the non-profit sector since my early twenties. i have worked as admin assistant to youth coordinator to program manager. I have traveled across Turtle Island, I have seen the beauty that our youth hold.  However, I have also seen the tokenism and disregard of the youth voice. I have seen the youth constantly be a afterthought from large organizations that claim to be about the youth. Thus a huge motivator in creating A7G. There is currently no national Indigenous youth organization in Canada even though Indigenous youth continue to be the largest segment of the Indigenous population. I am strongly connected to the Seven Grandfathers Prophecy. This prophecy is a strong motivator in the work I do, I strongly feel that my generation is the new people that the seventh fire was talking about and I have faith that my generation will put their differences aside to work together so we can light that eighth fire in truth, harmony and peace. That is what I am passionate about. 
Who are your role models, and why?
I look to so many people as my role models, I learn something valuable from every person that is put on my path. But a few strong women that come to my mind as Cindy Blackstock, Alanis Obomsawin, Christi Belcourt, Ellen Gabriel, Tanya Kappo, and Viola Thomas. These women I consider role models not only because of the important work they have done throughout their lives but they have all taken the time out of their days at one point to talk with me and support me. This is needed especially between women, Indigenous women are so strong, we're fierce, we're survivors and that can be intimidating, we can sometimes get competitive but we need to let all of that go, we are stronger when we share and when we support each other. 
What are your hopes for the future?
My hope for the future is that the generation that came before today's youth recognize the power and value our youth have, we are in a time of real change however that real change cannot happen if there is too many barriers in the way or if people are scared to lose their status quo. Today's youth will not put up with talk that has no action. We need real support, the kind of support that Digital Opportunity Trust has given to A7G. Non-Indigenous allies need to understand that they cannot walk in front of us, they need to walk behind us in support, all Indigenous people need to be in full control of their futures. The issue of control is how we got into this mess and in order to reconcile we all need to let go of that control factor. 
Paul Seesequasis (Oct.23-30)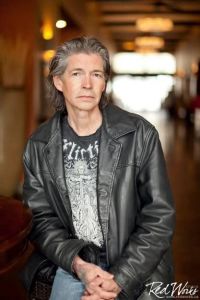 Paul was the first guest host on IndigenousXca, and for this special launch, was also the guest host on the Australian IndigenousX account.
Tell us about who you are, where you are from, and what you do. 
I am Paul Seesequasis. I am from the prairies of Saskatchewan originally and since then I have lived in many parts of Canada and the world. The arts have always been central to my life, not only as a creator but also as a critic, consumer and observer. Words and stories are at the core of what inspires me and in particulate, Indigenous words and stories, the creative acts of survivance. I am Nehiyaw (Cree) and Ukrainian. I have lived on both reserves and cities. I am blessed with two gifted children and some dear friends.
What do you plan to focus on during your week as host of @IndigenousXca?
When the 'Idle No More' movement arose in Canada last year, I was happy to see this seemingly swift manifestation of political resistance and Indigenous pride. But the title troubled me. I know my Mooshom and Kokom were never idle. I know my great grandparents were never idle nor were my parents or aunts and uncles. Theirs was a resilient strength, a hard work ethic and a pride in being human in their own unique way that transcended the harshness of the time or de-powering institutions like residential schools. In my week I plan to curate archival photos of the recent past century. The photos generally speak for themselves. Few words are necessary. The images demand respect. They reflect upon us a timeless energy, a unsurpassable strength of spirit.
What issues are you most passionate about and why? 
Dignity of the human spirit. The right to live in peace. The right to create and realize one's potential. The right to be oneself and live without fear. Those fundamental human rights should also be matched with a respect for all living things, the sacredness of the earth and stars, the need to find a harmony with nature. In our contemporary world of self-absorption and distraction, it is too easy to miss the natural beauty that surrounds us.
Who are your role models, and why? 
Artists like Daphne Odjig, Alex Janvier and also younger artists like Rebecca Belmore and Mary Anne Barkhouse. Writers like N Scott Momaday, Maria Campbell, Lee Maracle, Jeannette Armstrong and others who opened the doors for the many Indigenous writers today who are being published. Beyond Indigenous creators, I look to Borges, Cortazar, Neruda and Marquez, who see beyond what just 'seems' to be reality. Finally my own ancestors who give me strength, and responsibility, and are the reason I have the many blessings I have.
What are your hopes for the future? 
That the acts of our modern day storytellers, of all mediums, help us to achieve a reality in the Indigenous worlds where poverty, neglect, addiction and self-dislike, are manifestations of the past. It is that simple.