IndigenousXca list of hosts
Kam'ayaam/Chachim'multhnii
Cliff Atleo Jr. (Nov.27 – Dec.4)
Tell us about who you are, where you are from, and what you do.
My English name is Cliff Atleo, Jr. My Nuu-chah-nulth name is Chachim'multhnii, which I get from my father's side and the Ahousaht First Nation. My Tsimshian name is Kam'ayaam, which I get from my mother's side and the Kitselas First Nation. We also have strong connections to Kitsumkalum and Lax Kw'alaams. I grew up mostly in Vancouver where my parents met in the 60s. I have one sister, who lives with her husband and son in Tseheheh. The Nuu-chah-nulth peoples number about 9,300 are mostly located on the west coast of Vancouver Island and are closely related to the Ditidaht and Pacheedaht also on the island, and the Makah from Neah Bay in Washington state. Both of my parents' peoples come from fishing communities and have strong ties to life on our oceans and rivers. The Nuu-chah-nulth also hunted whales and my great, great grandfather Kiista was the last known Ahousaht chief to successfully capture a whale for our family and village. I am married to an Anishinaabe woman, whom I met while we were doing our undergraduate degrees at UVic. We currently live in New Haven, Connecticut with our two children, a two-year old son and a newborn daughter.
I have a BA in political science and an MA in Indigenous Governance, both from the University of Victoria. I'm a PhD candidate in political science at the University of Alberta, but I'm currently at Yale University as the fifth annual Henry Roe Cloud Fellow in American Indian and Indigenous Studies. My research offers a critique of Aboriginal capitalism and an exploration of alternative economic practices rooted in Indigenous principles and values. I focus on these areas because I am interested in reviving Indigenous ways of living and relating, and concerned about the dominant political and economic paradigms that are ruining our homelands. I've grown increasingly concerned about the way many of our communities have been forced into new relationships that take advantage of our poverty and potentially compromise our Indigenous principles and values. I seek to amplify Indigenous voices of dissent, resistance, and empowerment on our own terms. I'm continually humbled by those in our communities who fight for what they believe in and what our ancestors survived for.
What do you plan to focus on during your week as host of @IndigenousXca?
Generally speaking, I will Tweet about my experiences as an Indigenous scholar living in the United States, which has been an eye-opening experience. Yale is one of the more prestigious universities in the world, and yet it exists alongside massive racial and economic inequalities. I've also met some great Indigenous scholars and students here and at neighbouring schools who are doing inspiring work. I plan to Tweet about my research as well as my experiences raising two young children.
What issues are you most passionate about and why?
I'm passionate about being a good Nuu-chah-nulth-aht and Tsimshian man, husband and father. Having a family has really put my Indigenous political theory into perspective in unexpected ways. It is one thing to analyze from afar, and quite another to attempt to live out my beliefs day to day while raising two small children. My children are part Anishinaabe as well, so it is important to me that we also raise them to know their mother's people's ways. Of course they have a nokomis and aunties that help tremendously in this regard. Over the years, I have become less concerned with "Aboriginal rights" and more interesting in "living our Indigenous responsibilities." I believe that our Indigeneity is not something we are simply born with, but also a responsibility that we are meant to uphold, in how we live and engage with the world. Hence, I am interested in reconnecting to our homelands, fostering relations of respect and reciprocity, language revitalization, and culture as a lived experience.
Who are your role models, and why?
My role models used to be people like Gandhi and Martin Luther King, Jr. and later Ché Guevara and Malcolm X, but today it's much more personal. I admire my mom and dad, and appreciate their experiences, from surviving residential school to engaging in community revitalization. I admire my sister for her strength and compassion. I love my wife for being such a wonder partner and mother. I appreciate my brother-in-words, Johnny Mack, a fellow Nuu-chah-nulth scholar, as well as others who helped blaze the academic trail, like my uncle Umeek (E. Richard Atleo) and Charlotte Coté. I will always appreciate my IGOV professors, Taiaiake Alfred, Jeff Corntassel, and Waziyatawin, as well as my current advisor, Isabel Altamirano-Jiménez. I'm also inspired by the next generation of activists and leaders like @khelsilem and @TaKaiyaBlaney. Finally, I can't forget my favourite Indigenous Intellectual superheros: Leanne Simpson (@betasamosake) and Glen Coulthard (@denerevenge).
What are your hopes for the future?
My hopes for the future are entirely unrealistic. I do not know if we will see the type of change I aspire to in my lifetime, but I'm okay with playing my small part in a longer timeline of revolutionary change. I would like to see Canada truly decolonized. I would like to see Indigenous expressions of health and well-being that are not rooted in corrupt political and economic systems that are designed to exploit. I would like to see a revival of respect for Indigenous laws. I would like to co-exist peacefully with non-Indigenous people who are willing to give up their privilege and learn to live in harmony with our homelands. I would like to hear more of our Indigenous languages again. I would like for us to sing our victory songs again, when we have decolonized, protected our homelands and peoples. I want to live in a community where our women and children do not live in fear and where we respect each other and ourselves.
Brandi Morin (Nov.20-27)
Tell us about who you are, where you are from, and what you do.
I am Métis from Stony Plain, Alberta. When I was younger the only connection I had to my Métis roots were through my grandmother, "Kohkum," and even that was minimal. I knew Kohkum liked to go to bingo and that's what I thought native people did. She often liked to party and go on drinking binges with other "drunken Indians". Oh, and then there was the bannock. Yummy, warm, slathered with butter, bannock. That was native, wasn't it?
I loved my Kohkum, she was an amazing woman. So, I ask myself now, why didn't I inquire with her as to what it meant to be Métis?
She passed away from cancer in 2008 and I miss her terribly.
A couple of years later I became interested in discovering my native roots apart from the negative stereotypes I witnessed growing up. So, what is Métis and where do I fit in? That is a question I've been seeking to answer and thus far I reverently interpret it as such:
To me, Métis is being reborn to an affinity with the native blood that runs through my veins. Still, on the other hand there is an inner struggle with deciding how much blood counts. How much blood does it take and who decides if I belong or not?
It's sometimes a feeling of being stuck in two worlds wondering where I belong. Does my dark hair and almond color eyes suffice enough to be accepted into the native world? My experience so far has been good, no one has rejected me. It's always my own doubts that are questioning, but I reckon it's all a part of the journey.
I've found being Métis means awareness. Knowing my roots and that I come from a great and mighty people and discovering that my family line descends from three famous chiefs.
It's understanding colonialism and its effects to this day. It's realizing my grandmother didn't speak her native Cree language because she was afraid of being chastised after attending residential school and being told it was heathen. It's lamenting the horrors and atrocities committed against Aboriginal people in the centuries since Europeans first set foot on this continent and intermittently warring against my own white blood.
Nevertheless, being Métis and being around Indigenous culture makes my heart happy. I know for sure that I belong when I hear the voices of the singers echoing to the beat of the pounding drums and my spirit soars with conciliation. My gaze gets lost in the swarms of the colorfully dressed dancers and I revel at the freedom and honor of their display.
Métis means carrying on a legacy of justice. The legacy that the great Louis Riel began in 1869. Riel foretold that "My people will sleep for one hundred years, but when they awake, it will be the artists who give them their spirit back."
I am an artist and I belong as a Métis. I was asleep, but now have awoken to unearth my identity as a Métis woman in Canada.
What do you plan to focus on during your week as host of @IndigenousXca?
I work in journalism with a focus on the Aboriginal community. So, I plan to speak to and share stories and issues that are happening on a local and national level, possibly through incorporating some of the content I am covering.
What issues are you most passionate about and why?
One of my life visions is to make a difference in the Aboriginal community and to help in the healing and reconciliation process. To me, this means educating, sharing and dispelling stereotypes on both sides of the spectrum. Most main stream Canadians are clueless when it comes to the native world, of not only the issues they face, but of the progress and successes they are making. There is also a barrier between the two sides because of a build-up of a number of issues perpetuating a lack of trust which hinders reconciliation. So, I strive to use my voice through the avenue of journalism to improve understanding.
Who are your role models, and why?
My spiritual leader Dr. Carmen Lynn has had a tremendous impact on my life and has supported me through many trials. She's encouraged me to chase after my dreams and not give up hope in the face of adversity which has been instrumental in the unfolding of my career in journalism.
Another person I admire is Oprah Winfrey. She is a woman who built herself up from nothing to become one of the world's most powerful story tellers. She is real and raw and draws from the heart. This is something I connect with and hope to reflect this type of authenticity in my work.
What are your hopes for the future?
Ultimately, I want to see the day when Aboriginal people rise up from the oppression that they have been under for so many generations. I want to be a part of history- a new era of our people coming unto their own, strong, tall and free. I believe it's already happening and it's inspiring to see it unravel awakened by the birth of the Idle No More movement. Although there is a lot of work to do, I have high hopes this will be the generation that bears witness to this.
want them to understand?
Dëneze Nakehk'o (Nov. 13 – 20)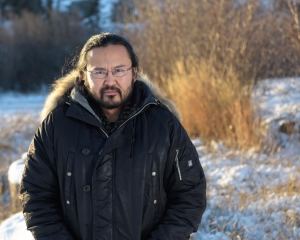 Tell us about who you are, where you are from, and what you do.
I'm Denesuline and Dehcho Dene from Denendeh. Right from the get go, my Mother Celine Antoine and my Father Jim Antoine gave me a Dene name that identified me as part of a people connected to the land that is now known as Canada's Northwest Territories. We've always called it Denendeh, that land of the people or as I like to refer to it, of the land of the sacred waters. Denendeh lies within the territories of Treaty 8 and Treaty 11. It took me a while to come to terms and reconcile who I was and where I was from, but once I did I was proud of my people, land and culture. And I wanted other people to feel the same way, which lead me to work in radio, television and video production.
What do you plan to focus on during your week as host of @IndigenousXca?
Identity, especially when it comes place names and our stories. My family and our people. Our land, Denendeh. Dene Nahjo and our projects like the Indigenous Circumpolar Womens Gathering.
What issues are you most passionate about and why?
Decolonization, unlearning what we have learned. It's to the point where even our conditioning has been conditioned. Governments and most of our organizations and institutions have normalized a racist doctrine of forced assimilation of Indigenous people. It's so ingrained into our everyday society that people don't even realize how it's affecting our people, land and waters. Moving forward we must unlearn and reconnect to our homelands through out cultures and language. How we do this is a constant struggle and something I am passionate about.
Who are your role models, and why?
My role models are my Parents, Grandparents, Aunties and Uncles. I have and continue to learn so much about the strength, resiliency and love of the family I come from, it is a challenge to keep up but something I strive for everyday.
I also have profound respect for John Trudell, the way he speaks is like a lightening bolt to the soul. He is able to articulate and put into words things I have felt but couldn't verbalize.
Malcolm X, for his battles on an intellectual level. He was also a major inspiration to find out my family's traditional name, check it out here: http://www.cbc.ca/8thfire/2012/02/reclaiming-dene-names.html
What are your hopes for the future?
I hope we can all learn from out historical mistakes and come together to work in a respectful manner, in the spirit and intent or our Treaties.