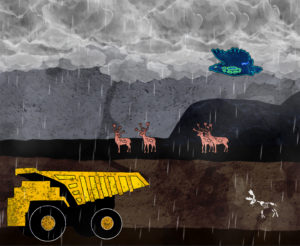 Recently the wonderful Elizabeth LaPensée released a 2D sidescroller game called Thunderbird Strike where you "fly from the Tar Sands to the Great Lakes as a thunderbird protecting Turtle Island with searing lightning against the snake that threatens to swallow the lands and waters whole". The game won Best Digital Media at the imagineNATIVE Film + Media Arts Festival!
As you can imagine, the premise of this game has the oil industry in a frothing rage. LaPensée has been facing days of harassment, and the accusations are getting more and more hyperbolic. This Fox News headlines for example (I refuse to link to it): "Eco-Terrorism? Anti-pipeline video game under fire for putting lives at risk, group says."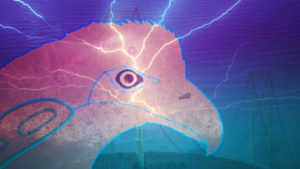 The game encourages players to learn about and respond to the social and ecological harms created by Line 5, but it has come under attack by industry lobbyists and legislators in Minnesota. Letters of support are needed, to help to affirm the importance of artistic and academic freedom, particularly in relation to Indigenous rights, as well as making the case for the value and importance of Thunderbird Strike.
"Thunderbird Strike has sparked quite a reaction. Minnesota legislators are attempting to make me pay back $3,710 from the Arrowhead Regional Arts Council Artist Fellowship grant because I moved from Minnesota to Michigan even though I finished what was outlined in the grant before moving. If you would like to help, you can send letters of support to the council regarding the integrity of the game." – Elizabeth LaPensée
Please consider writing a letter of support to the Arrowhead Regional Art Council (info@aracouncil.org), who in part funded the development.
If you are short on time, here is a template letter that can be easily personalized.
Example letter:
Dear Arrowhead Regional Arts Council,
Thank you for your continual support of Beth Lapensée and her ground-breaking, award-winning game Thunderbird Strike.
The game is an invaluable resource for communities, educators and the public which helps them to learn about the social and ecological effects of the extractive industries, and Line 5 in particular, in interactive, community-driven ways. The game in no way condones or supports violence.
Instead, it promotes positive messages of community mobilisation and the protection of Indigenous rights. Its quality and relevance is reflected by the fact that it was awarded the prize for 'Best Digital Media' at the internationally-renowned ImagiNative Film Festival in Toronto on the week of its release.
Dr. Lapensée is an internationally-respected artist, intellectual and educator of the highest integrity, who is deeply valued and respected by the communities and colleagues her work supports. hope that you will continue to support artists and artistic work of this quality and public importance, and I would like to thank you once again for your ongoing support of this project.
Sincerely, (you)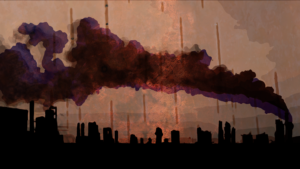 Caring for the land and water is not terrorism. Incorporating teachings about Thunderbirds in an interactive and contemporary setting is not terrorism. Don't let shills for oil companies shut this Indigenous work down!