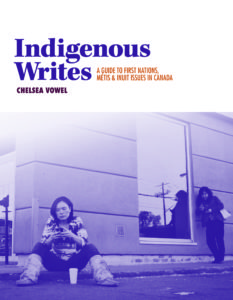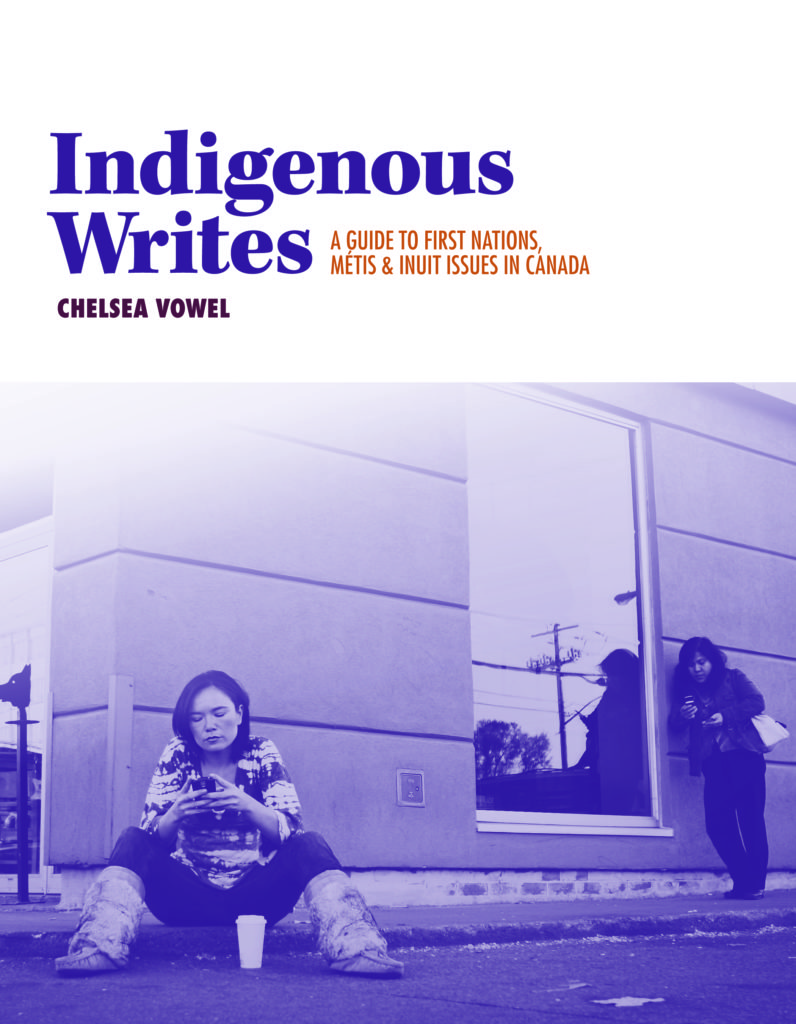 I am very excited to announce that my book Indigenous Writes: A Guide to First Nations, Métis and Inuit Issues in Canada, is now available as an eBook, for those of you who prefer this format or who simply do not want to wait until September 6th!
The eBook is $20.80, and you can purchase it through the Portage & Main Press/HighWater Press website HERE! Of course, you can also still pre-order the softcover. Either way, I would love to hear your feedback on the book, so please feel free to comment here once you've gotten a gander of it!
A few people have already read the book and have generously provided their reviews. I'd like to share those with you!
Book Reviews of Indigenous Writes: a Guide to First Nations, Métis and Inuit Issues in Canada
Indigenous Writes engages, enrages, and engrosses. With boldness and wit, Chelsea Vowel presents a counternarrative to the foundational, historical, and living myths most Canadians grew up believing. She punctures the bloated tropes that have frozen Indigenous peoples in time, often to the vanishing point. Reading Indigenous Writes, you feel that you are having a conversation over coffee with a super-smart friend, someone who refuses to simplify, who chooses to amplify, who is unafraid to kick against the darkness. Branding Indigenous Writes as required reading would make it sound like literary All-Bran. It is not, and far from it. What this book really is, is medicine.
Indigenous Writes is essential reading for those interested in Indigenous history and contemporary politics in what is now Canada. Written for a broad,curious and, perhaps, at times, skeptical readership of Indigenous and non-Indigenous readers alike, Chelsea Vowel's chapters read like an anticipatory guidebook through and around the myths, misperceptions, and arguments that govern popular understandings of Indigenous peoples and politics.
Vowel's argumentation is saturated with humour and wit, and offers in clear and precise language the material needed to counter dominant (and draining) preconceptions and myths that govern not only scholarship but day-to-day conversations, Twitter flame wars, and comment sections on Indigenous peoples and rights. Fans of her essential blog www.apihtawikosisan.com will not be disappointed!
How do you reconcile with strangers? After 150 years of official co-habitation, we still live so much of our lives in separate rooms, separate realities. The Indigenous and non-Indigenous peoples of Canada, far from knowing how to talk to and about each other, struggle with the basics of what to even call each other!
Enter, just in time, the compelling new voice of Chelsea Vowel; intellectual and populist, teacher, advocate, and provocateur. In Indigenous Writes, she tackles the most wide-reaching gap identified in the 2015 report of the historic Truth and Reconciliation Commission: the gap in awareness and understanding among Canadians.
With facts, examples, patience, and sardonic humour, she takes us on a guided tour of the legal, political, and social wrangling that has torn at the founding relationships of this country. Through the passionate lens of her own Métis identity, she will make you laugh, make you cry, make you scream … leaving us all better informed, and better equipped, for the long, complex journey toward national reconciliation.
Chelsea Vowel's work requires the best of readers: that we bring our smartest and most ethical selves to the table when we engage with Indigenous peoples, ideologies and principles.  This work allows a much wider audience – some who are oppositional to Indigenous rights and holdings – to participate in the meaningful work of developing ideas and understandings about Indigenous peoples and the issues we face given the different spaces we hold in the circle.
With uncommon common sense, Vowel introduces the vocabulary and intellectual underpinnings which ground conversations with, by and about Indigenous peoples.  Complex conversations about rights, rightfulness and righteousness are handled elegantly and eloquently under Vowel's watch.  She allows the possibility of an ethic of care in intellectualism that is generous and hard to achieve.
Indigenous Writes smartly and concisely reframes the conversation about Indigenous peoples and Canadians as neighbours.  With deftness and precision, Chelsea Vowel examines the sites of dissonance and elaborates on the positions held by Indigenous peoples and Canadians.  She does not shy away from difficult topics (in fact, addressing myths and stereotypes outright) and invites readers to engage with and open up to the possibility of an Indigenous based model for discussion.
Her presentation is conversational, sometimes acerbic, often witty and always engaging.  She is able to unpack and politically audit language, policy, laws and theories with confidence and an inspiring degree of fluency.  She does not subscribe to the myth that we engage with academic or intellectual matters as neutral bystanders.  This is largely because the issues in this book are grounded in an ethic of community and not eviscerated or changed in order to address a largely meaningless academic construction of Indigenous lives and experiences.  She grounds the work in actualities and experience, and the work resonates strongly with the understanding that this is not mere observation, but is actually a participatory piece of work.  What is quite amazing about this work is the fact that Vowel identifies her biases, preferences and understandings – never pretending to attempt or achieve academic neutrality.  Because of this, she is able to thoroughly present issues facing and identified by Indigenous peoples in a way that is meaningful and important: this is a rare, rare achievement and it has the potential to change the way we engage with Indigenous knowledge and the way Indigenous and Canadian peoples interact and problem solve.
Her work serves to validate the responses that many Indigenous peoples have to colonization, assimilation and stereotypes – and she does not require readers to disengage from the political framework in which Canadian law and policy are formulated.  The work approaches conflicting worldviews with humility and frankness; Vowel enunciates her own intellectual, emotional and physical responses to domination, creating space for Indigenous peoples who continually face  the violence that colonization does.
This is the book I wish my grade school, secondary and post-secondary teachers had read. This is the book that I wish I had for the entirety of my teaching career. A must read for peoples and institutions engaging with the idea of reconciliation as it succinctly, clearly and convincingly addresses what it is that we are attempting to reconcile in an exquisite and profound way.
I strongly recommend this book for introductory courses in law, history, anthropology, Indigenous studies, Canadian studies, philosophy and programs which prepare students for work with Indigenous peoples.
Vowel's approach is important and engaging and the work is a game changer in that it situates the text in Indigenous language, lands, peoples and philosophies.  In doing so, the author is able to open the door broadly to those seeking respectful dialogue by and with Indigenous peoples. With respect to its potential for moving towards reconciliation, this public engagement with Indigenous intellectualism signals a shift from conversations about Indigenous peoples to conversations with and by Indigenous peoples.
Her conversations about Indigenous laws, politics and philosophies as normative, distinctions between Indigenous hunting and gathering, observing and unpacking transgressive acts and ideologies, and the discussion of "allowably Indigenous" signal emerging and Indigenous analytical frameworks for research, dialogue and understanding. With creativity, deeply intelligent and useful examples and comparative points, Vowel has invited readers to have hard talks about complex and  important subjects – while requiring that we all bring our best to the table in order to do so.
Well, I'll be buying this one for the library. It becomes clear early on that Vowel wants to bring some realities home to Canadians when she follows a chapter on what the polite, current terms for referring to Indigenous people are with a chapter on what to call everyone in Canada who isn't Indigenous. This isn't just a polite recitation of things non-Indigenous people should know about their Indigenous neighbours, it's going to say a few things about its (presumably non-Indigenous) readers, too. Fortunately, though Vowel's clearly not interested in taking any crap, she writes in a breezy, approachable style that should appeal to a broad audience, even while throwing in enough footnotes to keep the more academically inclined happy. Many times I found a question popping into my head, only for Vowel to address it a page or two later. She's fully engaged with pop culture, referring one minute to science fiction novelist Robert J. Sawyer (not Indigenous), the next to musicians A Tribe Called Red. The book feels current. (Yes, the Daniels decision from April 2016 is in here.) And if it sounds like it might be lightweight for talking about pop culture, don't worry — you're going to get Delgamuukw, residential schools, the Royal Commission on Aboriginal Peoples, and more. Shame the repeal of Section 67 from the Canadian Human Rights Act isn't in there, but I guess you can't have everything. So, yeah, I'm buying this for the library, and maybe a print copy for me, and I'm going to recommend it to people. And not just at work.
Table of Contents
Here is the table of contents, divided into five broad themes:
I. The Terminology of Relationships
1. Just Don't Call Us Late for Supper: Names for Indigenous Peoples
2. Settling on a Name: Names for Non-Indigenous Canadians
II. Culture and Identity
3. Got Status?: Indian Status in Canada
4. You're Métis? Which of Your Parents Is an Indian?: Métis Identity
5. Feel the Inukness: Inuit Identity
6. Hunter-Gatherers or Trapper-Harvesters?: Why Some Terms Matter
7. Allowably Indigenous, to Ptarmigan or Not to Ptarmigan:  When Indigeneity is Transgressive
8. Caught in the Crossfire of Blood Quantum Reasoning: Popular Notions of Indigenous Purity
9. What Is Cultural Appropriation?: Respecting Cultural Boundaries
10. Check the Tag on That Indian Story: How to Find Authentic Indigenous Stories
11. Icewine, Roquefort Cheese and the Navajo Nation: Indigenous Use of Intellectual Property Laws
12. All My Queer Relations: Language, Culture, and Two-Spirit Identity
III. Myth-Busting
13. The Myth of Progress
14. The Myth of the Level Playing Field
15. The Myth of Taxation
16. The Myth of Free Housing
17. The Myth of the Drunken Indian
18. The Myth of the Wandering Nomad
19. The Myth of Authenticity
IV. State Violence
20. Monster: The Residential School Legacy
21. Our Stolen Generations: The 60s and Millennial Scoops
22. Human Flagpoles: Inuit Relocation
23. From Hunters to Farmers: Indigenous Farming on the Prairies
24. Dirty Water, Dirty Secrets: Drinking Water in First Nations Communities
25. No Justice, No Peace: The Royal Commission on Aboriginal Peoples
V. Land, Learning, Law, and Treaties
26. Rights? What Rights?: Doctrines of Colonialism
27. Treaty Talk: The Evolution of Treaty-Making in Canada
28. The More Things Change the More They Stay the Same: Numbered Treaties and Modern Treaty-Making
29. Why Don't First Nations Just Leave the Reserve?: Reserves are Not the Problem
30. White Paper, What Paper?: More Attempts to Assimilate Indigenous Peoples
31. Our Children, Our Schools: Fighting for Control Over Indigenous Education
Categories: 60s scoop, Aboriginal law, Comprehensive Claims, Cultural appropriation, Culture, Decolonisation, First Nations, Idle No More, INAC, Indigenous law, Injustice, Representation of natives, Residential schools, Settlement Agreements, Specific Claims
Tags: First Nations issues, Indigenous Writes, Inuit issues, Métis issues