Disclaimer: I only learned on Feb 25th that this project is proceeding to the next level, so any errors I make in the information I present here are my own. In my first post on this, I had originally indicated there were two proposed mine sites. I have since clarified with the county that there is only one. My apologies for this mistake!

Okay! I already know enough about this proposed project, and I want to oppose it, what do I do?
The deadline to respond to this proposal was originally set for February 29th, but has been extended to March 6th. The county of Lac Ste. Anne has sole discretion at this point to approve or deny the proposal. They need to hear from you!
Please contact:
Tanya Vanderwell
Development Officer, Planning & Development Department
Lac Ste. Anne County
Reference this: Development permit: Gravel extraction and processing, NW, SW & SE 35-53-05 W5M, NW & SW 36-53-05 W5M, Lac Ste. Anne County.
If you live in the county of Lac Ste. Anne or in the county of Parkland, and you would be impacted by this gravel pit, please ensure you explain this. Also include whether or not you were ever informed of this project by the T & T Sand and Gravel, as they have claimed they hand delivered 150 notices to residents.
If you visit Lake Isle, or Lac Ste. Anne, please also contact the county and let them know how the health of these lakes is important to you. If you exercise Aboriginal rights in these areas to pick medicines, to fish, to practice your spirituality (especially relevant to Lac Ste. Anne) please also mention that this project impacts those Aboriginal rights. Assert that the Duty to Consult is triggered by this project!
Here are some of the other arguments you can make, if they apply to you:
The proposed site is within the Lake Isle watershed, which also feeds into Lac Ste. Anne. Despite all proposed mitigation activities, it is impossible to guarantee the safety of Lake Isle and any flow of sediments into the Lake will negatively impact fish and water health of both Lake Isle and Lac Ste. Anne. Although not directly adjacent the lake, the guarantee of impact through sediment and airborne particulates, should trigger the Water Act and the Environmental Protection Enhancement Act, despite claims in the proposal for the pit to the contrary.
The cumulative effects of gravel pits on aquifers in the area, even when the pit is a "dry" pit (i.e. does not pierce the aquifer itself) are such that the aquifer will be impacted regardless. This threatens the water supply of residents well outside the proposed site, and is an unacceptable impact.
First Nations and Métis people have the constitutional right to be consulted when projects have the potential to negatively impact the exercise of Aboriginal rights. Those rights in this case include the picking of medicines in the areas of Lake Isle and Lac Ste. Anne, fishing, and the spiritual practices of First Nations and Métis who have been gathering at Lac Ste. Anne for thousands of years, without interruption.
Residents in the area were not adequately informed, much less consulted, despite claims to the contrary.
This gravel pit will negatively impact property values for adjacent properties, but also for lake-shore properties, and properties well outside the area. The noise, lights, heavy traffic and potential disruption to the aquifer will cause potential purchasers to go elsewhere.
Traffic safety in the area is a huge concern for local residents. Traffic fatalities caused by gravel trucks have happened in other areas, including one incident in southern Alberta where a gravel truck slammed into a school bus. The rural roads in this area are not adequate for the traffic this huge project will need.
This operation requires shift workers to reside on site to keep operations going 24/7 when possible. There is no mention in T & T's proposal for any security to be available on site and in many areas where such "man camps" are set up, sexual violence against Indigenous women and children sky-rocket. This absolutely MUST be an issue addressed by the county.
The proposal does not benefit the county. The only way in which the county could possibly benefit would be through a royalty sharing agreement, or through purchasing gravel for use within the county. However, as with most of these operations, the bulk of the gravel will be sold to large municipalities, such as Edmonton and Calgary. The benefits will flow outside the county leaving only the detriment of decreased property values, degradation of the environment, animal habitats, quality of lake water, negative impacts on the aquifer, health and safety hazards for local residents and the disruption of a sacred site to Aboriginal peoples.
The history of this project so far
214131 Enterprises Ltd., operating as T&T Sand and Gravel, have proposed an open pit gravel operation close to Lake Isle (also known as Isle Lake) in the county of Lac Ste. Anne, about 70 km west of Edmonton. This specific area lies directly on a boundary between Lac Ste. Anne and Parkland counties.
This open pit gravel mine (aggregate pit operation) will cover 5 quarter sections which is 800 acres of land, and will operate for 25 – 30 years. Here is a map of the proposed mine site, in pink.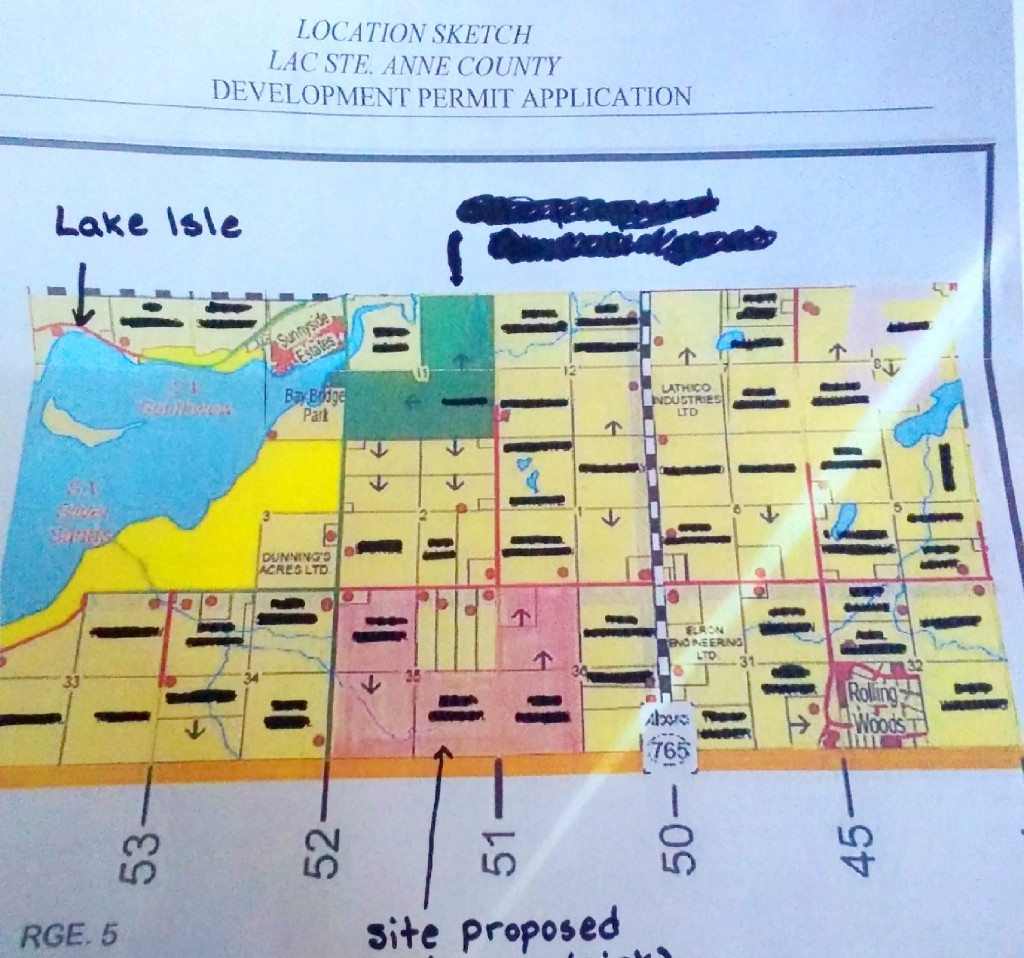 Lake Isle feeds Lac Ste. Anne, which is a special gathering place for many First Nations and Métis, and has been for thousands of years. Lake Isle and Lac Ste. Anne are in poor health, experiencing annual cyanobacterial blooms (blue-green algae) that threaten human and animal health.
The proposed site sits directly atop a creek that feeds Lac Ste. Anne and is within the Lake Isle watershed. Thus the health of two lakes are implicated.
This project is actually an expansion of an existing pit in the neighbouring Parkland county, located on the northeast quarter of section 26, Township 53, Range 5, west of the 5th Meridian. It is on 160 acres, just off the bottom of this map, between range roads 51-52. I will post pictures of the existing operation when I can.
The extension encompasses the NW, SW & SE quarters of section 35, as well as the NW & SW of section 36 Township 53, Range 5 west of the 5th Meridian.
You can read the entire permit application here: Redacted Application – Compressed(1)
The application states "no major water bodies are located within the vicinity of the Pit". "Vicinity" is being read very narrowly to only include the internal boundaries of the pit itself. In fact, Lake Isle is only a little more than one quarter section away from the proposed mine site.
Lack of consultation on this project
T & T Enterprises say they hand delivered approximately 150 letters to residents in the area back in April of 2015, informing them of the intention to apply for a Development Permit. However, residents contest this claim. In one case, a resident found the notice stuffed into a gate post, and it was only luck that it was seen at all. Other residents near the proposed site were not ever informed, as they live within neighbouring Parkland county.
A similar notice was published in the Lat Ste. Anne Bulletin in April. These notices indicated a town hall meeting would be held on April 29th, 2015.
Seven people attended the townhall meeting. The implication here is that residents did not care about the proposal. It is much more likely that few residents were aware of the townhall meeting despite claims of hand delivered letters, and a small notice in a local bulletin.
The seven people that did attend all voiced various concerns. As one resident puts it, none of the adjacent landowners are relaxed about, or in favour of the proposal.
No consultation with First Nations or Métis
Because the proposed land is held privately, it is "White Zone" or "White Area" and only the adjoining properties are looked at when determining potential adverse impacts. Since the proposed site is not adjacent to a reserve, T &T can claim that the Duty to Consult was not triggered.
However, this does not take into account site-specific impact on Aboriginal rights to Lac Ste. Anne itself, which is fed by Lake Isle. Any impact the proposed mine has on Lake Isle, is also an impact on Lac Ste. Anne. The Duty to Consult should be triggered by this fact. Lac Ste. Anne in particular is of immense significance to First Nations and Métis.
Gravel pits not environmentally benign
Three years ago, a gravel pit near Edmonton flooded, allowing sediment from berms, and the gravel pit, along with other dirtier materials from the pit operation, to make their way into the North Saskatchewan river. This has resulted in close to a 50% decline in fish populations below the pit site.
No amount of preparation can guarantee that this kind of thing will not happen to Lake Isle. Proximity is directly related to the potential adverse effects, and the proposed site is simply too close to the Lake to be considered safe.
The cumulative effects of gravel pit operations include:
modifications to the hydrologic cycle locally
change in aquifer water levels and redistribution from aquifers to surface water
changes in groundwater flow paths
poor quality groundwater flow downwards after dewatering
contamination of groundwater due to surface exposure
removal of filter material in aquifer
Alberta does a very poor job of monitoring and addressing cumulative impacts of gravel pit operations. We cannot rely on the province to ensure the safety of groundwater, or of the lakes and streams that will be impacted by these projects.
In addition, though mitigation with regards to airborne particulates (dust) in included in this gravel pit proposals, there is no system in place to adequately monitor this. Airborne particles from the gravel pit can and will travel wherever the wind takes them, depositing these particulates into the water of the Lake, and into the lungs of local residents and wildlife. There is very little research yet available on the impact of breathing in these particulates over the course of a gravel pit's 25-30 year life. Given the size of this proposal and given that there are other gravel pits only a few kilometres away, the potential for adverse health impacts and the unavoidable impact on water quality, makes this project a certain hazard.
I will continue to post updates on the proposed project HERE.