Regardless of your position on Idle No More (though I'm assuming if you're reading this blog you are probably fairly positive towards the movement), one thing that should be abundantly clear by now is just how much needs to be done to better understand the issues indigenous peoples face here in Canada.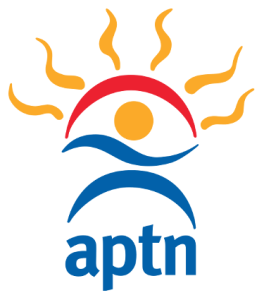 Today I'm going to be plugging a corporate interest, because for the past fourteen years, I have been directly benefiting from the mandate and work of the Aboriginal Peoples Television Network (APTN).  The programming provided by the APTN has given me access to programs IN MY LANGUAGE (something I did not have access to before), and has provided me with news coverage that includes peoples and communities I never saw represented in any way but negatively on any other network.  With native news anchors, camera people, and so on, my children see themselves represented in professional roles. They see our cultures celebrated and explored through an indigenous lens instead of through the colonial gaze.
I also feel that now, more than ever, Canada needs to have access to aboriginal voices, and though they aren't perfect, the APTN has being doing a pretty stunning job of providing that access.
Today marks the second time that the APTN will be going through the license renewal process which is a public affair, given that the APTN (like other media outlets) is funded by Canadian taxes.  To get a sense of what the APTN strives to achieve, take a gander at their license renewal application.  Major initiatives include engaging aboriginal youth (with a particular emphasis on indigenous languages), solidifying APTN as a national network (both in delivering the news and other kinds of programming) and developing a multi-media platform (again with a focus on indigenous languages).
As APTN explains on their site, they currently receive 25 cents per Canadian subscriber through monthly subscription fees, and are asking for an increase of 15 cents in order to expand the network and achieve the three initiatives outlined above.
The CRTC wants to hear from Canadians on APTN's application, and you have the opportunity before the deadline of February 27th, to submit any and all comments you think the CRTC should consider in order to make its decision.  Right now, we face a very hostile political environment, and I think it is very necessary that those who support the APTN take a little time to submit their comments, because it is not a given that the application will be successful.
On this page, the APTN lays out how you can make your comments and even provides a sample letter if you are at a loss for how to best put your thoughts together. I'm going to reproduce it here just for the sake of spreading the information.
What to do
Write a letter or fill out the online form (process explained in next part) containing:
APTN licence application file number 2012-0993-2;
Whether you support or oppose the issue or application, or whether you simply want to provide a comment;
Details to support your position;
Whether you want to appear at a hearing, if a hearing is scheduled.
Second
Send the letter to the CRTC either online or via fax/mail:
Online form: Go to www.crtc.gc.ca and follow these steps:
Select language of choice.
Under Quick Links, select Public Proceedings. Under Public Proceedings, select the link "Submit interventions, comments and answers by respondents".
Click on the Submit button associated with Notice Number 2013-19.
The system will prompt you to complete the submission process. (I'm adding in the direct link to help speed things up since I found it a bit tricky to navigate. Hope the link works!)
When choosing "Type of Submission" check the first option.
You get a huge list of media corporations. Click on the 5th, which is APTN.
You can either write in what you want to say (you indicate whether you are in support, in opposition or just want to comment on APTN's application for license renewal), or you can attach a document you've already written up.
The deadline to submit is February 27, 2013.
Fax: 819-994-0218
Mail: Secretary General
CRTC
Ottawa, Ontario
K1A 0N2
And finally
Send a copy of the faxed or mailed letter to the APTN:
If you submit electronically, a copy of your submission will automatically come to APTN. However, should you fax or mail your letter to the CRTC, you are required to send a copy to APTN either by:
Email: licencerenewal@aptn.ca
Fax: 204-943-8985
Mail: Licence Renewal
APTN
339 Portage Avenue
Winnipeg, MBR3B 2C3
I know it can sometimes feel a bit overwhelming when you are constantly asked to sign this petition and write your MP and do this and do that and do this other thing…but the APTN is the ONLY network that is devoted to indigenous peoples and our issues in this country, and it needs our support to keep operating and expanding.
I am very much hoping that you will take the time to show your support, if you do indeed support the APTN.  If my explanation still didn't help you navigate the process, this one might!
Many thanks!